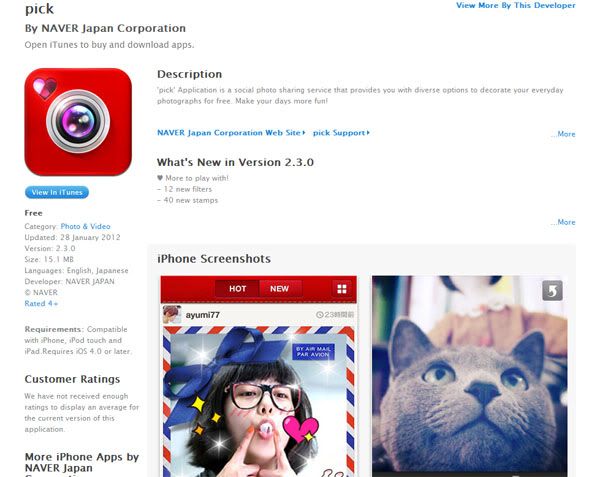 Does anyone know
Pick
? I am addicted! If someone has an account please
ADD ME
!
I am completely hooked on this! Since Instagram as become so popular I was experimenting with it a bit, but soon found this Naver app called Pick and completely forgot about Instagram. What's so good about Pick? Well, it is a Japanese app and most of the users are Japanese, which for me is a big plus, because I am a Japan sucker... And it is much more appealing than twitter (which I don't have) because you can edit the photos and add effects, borders and super cute stamps. It has a hot pick section which makes me want to check new pics every second of the day, you can

"pick"

photos, you can see how many other users picked your photo and you can

follow

someone or be followed. It is really fun and super easy to use! I love photography and Japan, so this app is truly made in heaven for me. The only cons is that it crashes sometimes, but not so often that would annoy me, just sometimes. So, if someone has or is thinking about getting Pick, please add me!! I need friends, I'm only following 2 people atm, haha.



I was away for a couple of weeks to get back to the simple living, it really does wonders, and now I'm back to the technology world, haha. Ciao!