I used this
Palty
hair coloring foam, that I bought back in Japan, to dye my hair! It is called
Ichigo

Jam
(strawberry jam).
Btw
, visit their website, it is super cute and they have a "how to" video! I thought if was a
appropriate
color for this summer's tones. I had used this kind of "new" hair dye before, from John Frieda, which was a super easy and clean task to perform, no mess around or hair colorant dripping all over the place,
lol
. So I had a pretty good idea of what it would be like and decided to try it out, since I am ever so bored with my hair, again...
Well, this hair dye it is NOT like John Frieda's one! It comes with a little cup and spatula (as you can see on the back of the box), you mix the 2 products and you're supposed to mix it 20 to 40 times until you get the perfect amount of foam. You can't make it bigger than a certain amount, there is a line, so don't mix too much! So far so good, right? Well, let me tell you, I mixed it and it did form the foam until the advised line. BUT! although it looked consistent enough, as soon as I tried to apply it on my hair, it dripped from my hand to the floor! (staining my shirt on the way) I wasn't very impressed... Still, I try to apply it all over my hair, and soon the
remain
dye on the cup goes from white foam to a pink-
ish
jelly. OK... Still, I couldn't stop anymore, so I keep at it. It was a bit scary that it didn't seem to be enough amount to cover my whole hair (and I don't have such a long hair
btw
), but I managed to spread it around, praying for my hair to don't have different patches of color later on. It wasn't a good experience. I think it was probably the worse experience I have had so far with hair colorants, and believe me, I have loads of experience!
haha
RESULT! It turned out quite alright actually!
lol
after all the mess that it was to apply it on, I was positive surprised! My hair had been colored equally, no different color patches (thank god!) and it looked quite shiny and healthy, not dry as sometimes it happens when you dye it. The color wasn't as vibrant as I thought, but maybe it was because I left it on only the minimum advised time, which was 20 minutes (max was 30m, I think, can't remember exactly). It isn't such a big difference from the color I had before, it is nicely subtle, but still noticeable. All in all I am happy. I do like the color, it is very natural and I think it suits my skin tone. I'm not too sure if I would use it again, but I think I probably will if I decide to keep this color for some time. But I'm always changing my mind about hair color, so who knows,
hehe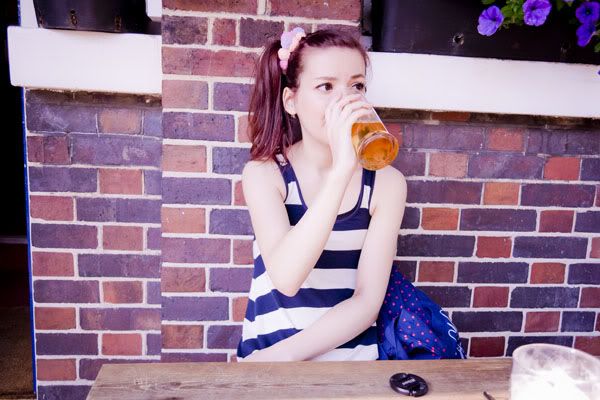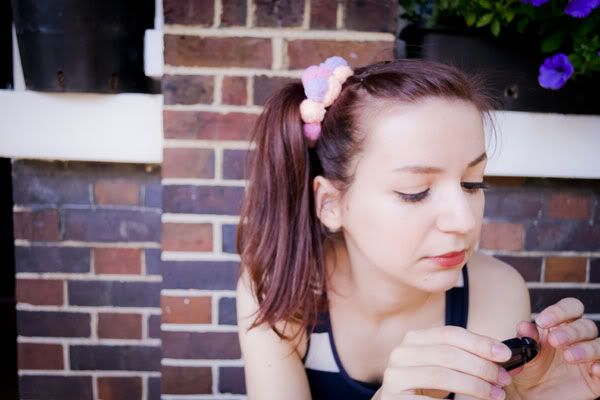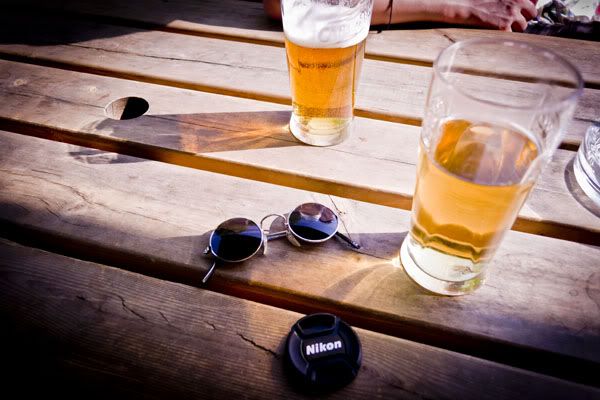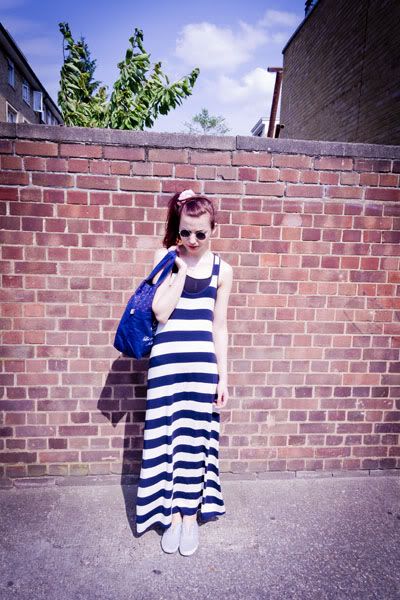 (H&M border maxi dress,

Uniqlo

tank, Salt and Pepper shoes,

Momo

tote bag,

SBY

shushu

, vintage round sunglasses)
It was a nice hot day! We went to Broadway market and then to the pub, where I had a shandy (beer + lemonade). A perfect summer day! But it is raining now... I hate you, London! It is June, I want some nice weather and being able to wear my new sandals! (more on that later ^_-)